UCC Bright Futures Awards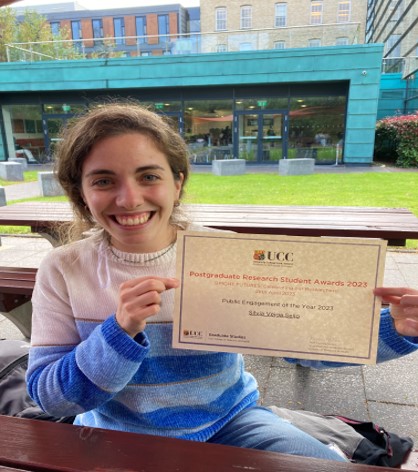 We were delighted this week to find out that two of our P4Play researchers were honoured in UCC's College of Medicine and Health Bright Futures Awards.
"This Awards scheme celebrates the outstanding achievements of Postgraduate Research Students in the College of Medicine and Health. It provides a formal process to recognise the achievements, efforts, and valuable contributions of our students. There are 5 research award categories recognising the achievements of both Doctoral and MSc (research) students at the College of Medicine and Health in UCC in each category."
Silvia Veiga Seijo was the winner of the Public Engagement Award for her work investigating  children's and community members' perspectives on developing a play-friendly community in a deprived neighbourhood in Scotland.
"This award recognises the contribution by a PGR student who has taken an active approach in communicating and engaging with the public to maximise the impact of their research…who demonstrates outstanding achievements in the following:
Effective communication of the relevance and impact of their research beyond academia.
Demonstration of the use of innovative methods to communicate research in both an understandable and engaging fashion.
Involvement of the public in research (public-patient involvement, co-creation, citizen science)
Evidence of raising public awareness of the value of their research to society and/or to influencing policy.
Demonstrated commitment to sustainable community engagement programmes and partnerships."
Allison Mula was Highly Commended in the Promotion of Equality and Diversity Award category for her research exploring how children, through their play occupations, conceptualize, communicate, challenge, and reinforce social discourses of gender.
"This award recognises…outstanding achievements in the following:
Evidence of encouraging inclusive participation and eliminating discrimination.
Evidence of activities promoting equality and diversity.
Commitment to the values of equality, diversity, and inclusion beyond the expectations of their role/project."
Congratulations Sylvia and Allie! Read their bios by clinking the links on their names.