P4Play supports Cork Freedom of the City creative consultation project to include children and young people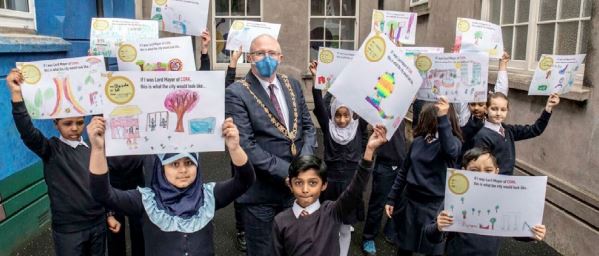 Students of St Marie's of the Isle with past Lord Mayor of Cork Cllr Joe Kavanagh.
Photo: Clare Keogh/The Glucksman
The Freedom of the City Project is an example of how collaboration and connections between the UCC research community and the City Council, can really make an impact, and create value for our community by working together to address UN
sustainable goals of promoting wellbeing, addressing climate change and fostering inclusive cities, for our children and young people. Late 2020, Dr Helen Lynch and the team from the Department of Occupational Science and Occupational Therapy (OSOT) partnered with the Centre for Planning Education and Research, UCC, the Glucksman Gallery and Cork City Council to devise and implement a creative programme for children and young people to participate in the consultation phase of the Cork City Development Plan 2022-2028.
The project was launched officially in April 2021. Over 1,000 primary and second level students in Cork city expressed their ideas for a healthier, greener and more playful Cork city using participatory methods including artwork, writing, and drawing, in order to ensure that children of different ages and abilities could communicate their ideas in ways that suited them best.
Led by Dr Lynch, the analysis team, including the P4Play researchers, then conducted a descriptive analysis for individual drawings, alongside content analysis of what the children and young people said in answer to the questions set. The drawing and written submissions called for Cork to become a brighter and more colourful city with more trees and open green spaces, and more places that children and young people can explore and play, such as parks and playgrounds museums, libraries; and more space for everyone to move about safely in the city including bike lanes and footpaths along with many other suggestions to address climate change, and make Cork a healthier and better city to live in. In October 2021, the Freedom of the City report was formally submitted to the City Council, to inform the Cork City Development Plan, on behalf of the children and young people. As Denise Cahill, Cork Healthy Cities Co-ordinator says: ' In a nutshell, this project personifies what a healthy cities approach is, or a playful approach is to city development planning and it has been a wonderful experience'.
See the final report that was submitted to Cork City Council for more information.
Reference:
College of Medicine and Health (2021). eNews, Issue 41, December 2021.
https://www.ucc.ie/en/media/academic/medicineandhealth/2019documents/newsletter/standardnewsletter/CoMHeNewsNo41_December2021.pdf